Since our establishment in 2010, ABA Construction™ has been committed to delivering an unparalleled standard of excellence in customer service and integrity within the asphalt sealing and maintenance industry. With unmatched professionalism, we take pride in our customer-centered approach, serving over 7,500 satisfied customers province-wide. Trust ABA Construction™ to provide you with exceptional service, top-notch professionalism, and a commitment to your satisfaction.
At ABA Construction™, our commitment to excellence is unwavering. We go the extra mile to ensure complete satisfaction with every client before accepting payment. With our workmanship and customer service, we aim to provide a refreshing change that sets us apart from the competition. Trust us to deliver exceptional results that exceed your expectations.
ABA Construction™: Setting the Standard Above The Rest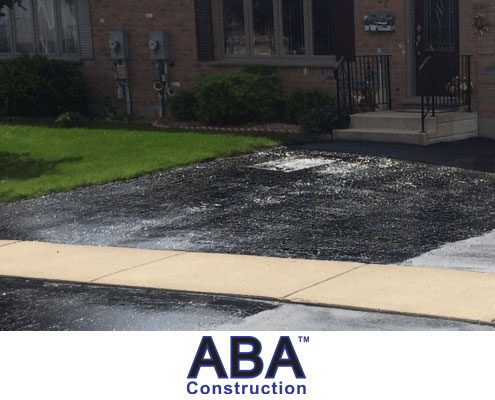 At ABA Construction™, we take pride in our team of trained and certified technicians who utilize the latest industry-specific equipment. Their expertise ensures that every job is executed with precision, leaving no areas of overspray. Following a clear and concise pattern, our team applies the correct volume of product, guaranteeing consistently outstanding results for each project we undertake. Trust us to deliver excellence and achieve the best possible outcome every time.
Our application sets us apart from "The Other Guys" who worked on the opposite side of this shared driveway. A comparison between the two jobs completed within hours reveals inconsistencies in their pattern, diluted product mixed with diesel fuel to cut costs, and overspray on the step. Choose ABA Construction™ for superior results without compromise.
The Truth About Asphalt Sealing: Choose ABA Construction™ for Lasting Quality
Beware of non-registered contractors who resort to diluting asphalt sealer with diesel fuel to cut costs. While this may enable them to offer cheap driveway spraying, the outcome is an overly glossy sheen that turns your driveway brown as it cures—an undesirable consequence of this "old trick in the book."
In contrast, ABA Construction™ exclusively uses JetBlack® seal products directly sourced from the manufacturer, ensuring that your driveway remains black after application. While it doesn't conceal existing imperfections like cracks, JetBlack® penetrates the asphalt surface like a stain, providing durable weathering protection for the long term. Trust ABA Construction™ for superior results and genuine product quality.
Revitalize Your Driveway with Professional JetBlack® Asphalt Sealing
Discover the power of JetBlack®, an oil-based asphalt sealer that will breathe new life into your old, faded, and weathered driveway. Over time, your asphalt driveway loses its essential oils, leading to brittleness and cracks. Our professional sealing process injects liquid asphalt back into your driveway, restoring its flexibility for long-lasting durability in all weather conditions. Additionally, it creates a protective water-seal barrier, ensuring optimal performance and preserving the integrity of your driveway. Experience the transformative benefits of JetBlack® asphalt sealing for a rejuvenated and resilient driveway.